History of the Dryade druid camps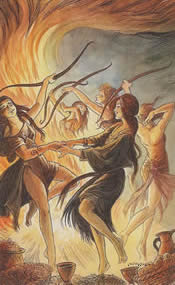 2008
Theme: The Spiral of Life
In the summer of 2008 Dryade magazine commemorated its 10th anniversary. To celebrate this, a weekend camp (Friday 30th May - Sunday 1st of June) was organised at a Forestry Commission campsite called 'De Abbert', near the Dutch town of Dronten.
79 adults and 16 children attended this camp.
Both OBOD's Chosen Chief Philip Carr-Gomm, and Modron Thea Worthington were present to run workshops on the theme, that was 'The Spiral of Life'. A central ceremony where a Spriral of Life was woven, took place on saturday-evening.
For the kids there were workshops called 'Magical Nature Art'. In the evenings we had wonderful Eistedfoddau by the central campfire, where participants brought great music, songs and poetry.
Dryade gifted all the participants at the event with a unique, specially handcrafted Dryade celebration goblet.
The camp was intended to be a one-time event, but it was such a success that there was a strong call to repeat the event the next year.
2009
Theme: The Cauldron of Awareness
So, in 2009 a second camping weekend was organised from Friday June 5th until Sunday 7th. Here also Philip and Thea again ran workshops in big teepees. This time the location was at 'De Banken', on national forestland in Flevoland, near the town of Zeewolde.
70 adults and 17 children attended this camp.
On saturday Cairisthea ran the workshop 'Honouring the Soul's Wisdom', while Philip focused on 'Sacred Places'. On Saturday evening, before the Eistedfodd by the campfire, the 'Cauldron of awareness' ritual was performed.
For kids there were several creative workshops.
On sunday there were also workshops, and the weekend was concluded by a wonderful Closing Ceremony, that was - like the Opening Ceremony - conducted by the Batavi Grove.
Participants were given a commemorative bookmark depicting the painting A Hamadryad (1893), by J.W. Waterhouse (1849-1917).
2010

It was at the third weekend, from 4th until 6th of June, 2010, held at the Dutch forestry commission campsite De Banken near Zeewolde, that Dryade camp began to be a tradition. Instead of just two people giving the workshops, the activities were run by several OBOD members and friends from the Netherlands, as well as from Belgium, Germany and Great Britain.
On Friday evening there was an opening ceremony.
Workshops given on Saturday and Sunday were: The Green Man by Henk Herne, The Rhythm of the Future by Robbin, Story Writing by Mart, Herb Lore by Melanie (UK), Magic Creativity for kids by Saskia, Making Claymen by Jos, Five Rhythms Dance by Neil (UK), Celtic Reiki by Crann & Scathan (D), Paintng with Nature by Ezra, Tarot by Nicole, Riotuals in a box by Mart, Making Chinese Lanterns & Wish balloons for kids, by Ezra & Inan, Journey to our Spirit Community by Marjorie, Kites for Kids by Gerben & Foeke.
Before the great Eisteddfod started, on Saturday evening there was also a sound healing concert by Wannes & Bernard (B)
At the end of the camp, on Sunday afternoon we had a magical closing ceremony where each participant received a small clay 'Earthman' from the cauldron, each one of which had been made at the camp.
80 adults and 23 children attended this camp.
2011
Theme: Dragons, Dryads & Druids
For 2011 we decided to take advantage of the extra holidays around the Ascension Day weekend. That year's camp was be a five-day activity! Furthermore, based on our experience in 2010 and the enthusiastic response, it was decided to fulfil Philip Carr-Gomm's wish (that he had mentioned at the very first Dryade Camp) to make this into the first 'international' OBOD Camp. 140 adults and 32 children attended this camp, that was held at the wonderful location of 'De Zonnebloem' (the Sunflower), near the town of Winterswijk.
Wednesday was a day of arrival, and in the evening we had a sound concert by Wannes and Bernard from Belgium. Thursdaymorning saw the great opening ceremony conducted by Henk and Marjorie, followed by several workshops to choose from in the afternoon and evening. This time felting was an ongoing event at the gate. A very long felt-string was made during the days of camp and used in the circle of the closing ceremony. In the end all participants got a piece of it to take home.
On Friday evening the Owl Clan performed a Dragons, Dryads & Druids ritual, while later on Marianne and Jim made some wonderful music. Of course the evening ended with a campfire and music & storytelling.
On Saturday there were many workshops to choose from. In the evening there was a lecture by Thea, and Archery facilitated by Willem. Then, before the Eisteddfod with music, dance and wonderful performances, Bernard created an enormous Dragon-fire-sculpture. Actually a firedragon was present there!
On Sundaymorning there were Grove meetings for bards, for ovates, for druids, for kids, and for guests simultaneaously.
The workshops at this camp were: Wild Medicine and food & Herbs and trees, by Melanie (GB); Deva workshops, by Cilla (GB); Elemental Dragon Dance & 5 Rhythms Dance, by Neil (GB); Tarot Workshop, by Nicole (NL); How to channel a Dragon & Healing Powers by Dragons, by Henk Herne (NL); Astrology lecture & Astrology workshop, by Frances (NL); Dragontrees, by Ilonka (NL); Chants & Songs, by Crann & Scathan (D); Spiritual Sessions, by Thea (GB); Journey to the Otherworld, by Nada (NL); a Sweatlodge, by Bernard (B); Opstellingenwerk, by Beer & Nico (NL); Calluna (music) by Ingeborg (NL);
2012
Theme: The Mirror, the Goddess and the Moon
128 adults and 40 kids attended this camp, that was located again in 'De Zonnebloem' from Thursday 31th of May, until Sunday 3rd June. After putting up the tents and enjoying a wonderful evening meal prepared by Frans Steijger and his team, there was a welcome gathering, followed by a sound concert by Bernard Crijns from Belgium. Then, some time before the campfire was lit, JJ from England ran a 'mirror' workshop, and at the same time Crann & Scathan from Germany did a 'songs and chants' wokshop, and Tatjana did an 'Earth Meditation'.
On Friday, after 'The Dance of Life', breakfast and the morning meeting, it was time for the opening ceremony. This time it was conducted by members of the Badger Grove; Esther, Henk, Marjorie and Taco. After a nourishing lunch, groves for the different grades. kids and guests took place in tipi's and shamyana's. In the afternoon and eveing there were paralell sessions of workshops. Memories of Avalon, by Ineborg, Tarot workshop by Nicole, Healing trance journey by Ilonka, The matrix of the Goddess by Henk Herne, The Moon and the Goddess by Melanie, Magic wandcarving by Adrian, The Mabinogian and the monn goddess by Penny. And for the kids: Mirror paintings by Ruth, Mirrot in the Woods by Saskia, Felting by Roelinka, and The mystery of the Forest by Floor. Philip did a lecture called 'Refleftions on the Mirror. Later that evening saw a Moon meditation walsk by JJ and Judith, In the Mirror of the Moon by Robbin and Adrian, and Mounsilhouettes by Monica and Henk.
On saturday, some of the friday workshops were repeated for other participants, while the new workshops and activities included: The four faces of the Moon, by Ruth, Moon calendar for Women by Monica, Celtic Reiki, by Crann and Scathan, Your astrological moon as a mirror, by Fances, a Herbwalk, by Melanie, Natural Magic in the Blues by Arthur, Healing with Brighid by Nada, Women Circle by Marjolein, Working with the Tarot for Spiritual Insight by Philip and Stephanie, The Goddess Nehalennia by Igor. And for the kids we got: Goddess wish by Caroline, The Goddess by Michaela, Celtic Knotwork / Kaleidoscope by Henk. By the end of the afternoon there was a market fair, and also Archery by Willem. After the evening meal and some coffee and tea, kids presented themselves in the kids-eisteddfod, before adult participants performed their songs, dance, music, poems, etc. by the campfire for all participants as an audience.
On Sunday, in the morning there were workshopsessions again: The new ones were: The art of Skrying and it's history, by JJ, Rites of Passage, by Robin, Moon silhouettes, by Monica and Henk, Tree workshop by Melanie and Adrian. After lunch it was time for the closing ceremony.
2013
No Dryade camp, but a druid camp in Belgium
Theme: Arduina, goddess of the Ardennes
2014
Theme: Roots & Branches
A druid camp from 28 May until 1 June 2014, again at "The Zonnebloem", near the town of Winterswijk. 130 adults and 40 kids from several countries attended this camp. This time the meals were wonderfully cooked and presented by Lisa & Sophie and their team.
Participants got a wristband with text: " Roots & Branches /|\ In Peace and Love \|/ ". The opening- and closing ceremonies were conducted by the Arduina team from Belgium. In the closing ceremony everyone got a slice of wood with an inscription burnt in. These were made by all the participants during an on-going event at the camp.
On wednesday at 17.00 sharp, the gates of the camp were opened. In the evening there was a cosy campfire. On fridaymorning more participants arrived, while the offical start of the camp was at lunchtime that day. After lunch the opening ceremony took place at the great circle. Later in the afternoon follwed by groves for the bards, ovates and druids. While guests and kids had their own circles.
In the evening the band FLING presented a wonderful concert, where the public dance and sang along very enthousiastically!
Friday and saturday there was a choice of workshops in the morning and afternoon, while on Friday evening, after the Chief's lecture, the steaming "Druid dancing Night" was held, with music form the "druid top 40"! On Saturday before lunch there was a great market, and Saturday evening saw a wonderful Eisteddfod by the central campfire, where many attendants proved to be real performing artists. On sundaymoring the closing ceremony was held at the great circle.

Workshops and activities at this camp included: A druidic Herbwalk by Melanie, Druids & the Tree of Life by Penny, The healing breath of trees by Ilonka, Tarot workshop by Nicole, Insence workshop by Tatjana, Sacr. Druidic chanting by JJ, Essential Oils by Stella, Hands massages by Lizzy, Wand carving by Adrian, The Deva's of Creation by Cilla, Song of Amergin by Corine, Numerology by Marjon, Wandcarving by Adrian, Inspiring sounds of the singing Bowls by Jann, Martial arts by Mart, The Inner Tree by Henk Herne, Earth Ritual by JJ, Music by Arthur, Archery by Willem, Creatures of Nature by Yolanda, Constructing A Pentacle by Jurre, walking the Labyrinth by Robbin & Ezra, A Concert by Bernard, A Harp concert by Ingeborg, Voyager Tarot by Frances, workshop Money matters Maaike & Marcel, Feltflowers by Roelinka, Celtic lessons of the Stars by Penny, Shamanic Roots by Remco, The art of Living Well by Melanie, Playing with Mediumistic skills by Saskia, A Drumcricle by Jan & Kaatje.
Workshops for kids included: Making a Movie by Floor, Learning from Nature by Henk & Monica, making Flowercrowns by Anna, Making a dreamcatcher by Saskia, Wandcarving by Adrian, Making Puppets by Stephanie, Grandma's tea party by Floor, Making a talkingstick by Saskia, A musical discovery tour by Carola.
2015
No Dryade camp, but a druid gathering in Neuerburg, Southern Eifel, Germany
Theme: Gathering around the Linden; the Otherworld
2016
The 7th Dryade druid camp was held at De Zonnebloem, Winterswijk.
Theme: Dynamic Balance
*** text will follow soon ***